Welcome to the website of Farnborough Old Boys Guild Football Club, founded in 1932 and affiliated to the Kent County FA.
We hope you enjoy your visit.
RESULTS
Sunday 25th September 2022
London Sunday Trophy
1st round
P - P
Sunday XI
Eltham Town could not field a team.
Friendly

Vets
Jay Gasson, Simon Davies
2 - 2
Friendly

0 - 6
Senior Vets
Jack Loizou 2, Danny Mullins, Kypros Michael, own goals 2
Kent Under 15 Boys Cup
1st round
Colts
George Raggett 3 (all penalties), Finley Williams 2
5 - 4
Friendly

Under 13s
Jack Pini 2, Harry Clark, Ollie Gain (pen.)
4 - 2
Saturday 24th September 2022
FIXTURES
Saturday 1st October 2022
Sunday 2nd October 2022
NEWS
Her Majesty Queen Elizabeth II
All at Farnborough OBG FC are saddened to hear of the death of Her Majesty Queen Elizabeth II.
Our thoughts and condolences are with the Royal Family and everyone mourning her passing in the UK and beyond.
Weekend Round-up
Overall not a great weekend results-wise.
The First XI were left without a game when Metrogas Reserves could not field a team for their scheduled cup tie.
The Second XI opened their league campaign with a 2-0 defeat away to Sporting Club Beckenham but manager Jez Allen was happy with the team's performance, lamenting bad luck in front of goal.
On Sunday, both our league sides made exits in their respective Kent Sunday Cup competitions away to league rivals. The Sunday XI lost 4-1 to FC Elmstead, Mason West on target, while the Sunday Reserves lost 4-3 to Groundhoppers, Kai George grabbing a brace with Lee Friend also netting.
The Colts opened their league season with a 4-2 defeat away to Old Wilsonians, Finley Williams scoring both our goals, while the Under 13s were beaten 5-1 in their final pre-season friendly by a strong Moonshot outfit.
It was a brighter story for our vets sides. The Vets beat AFC Greenwich Vets 6-4 at Farrow Fields, the prolific Steve Shippey hitting four, with Paul Tanton and a debut goal by Phil Sommer completing the scoring.
The Senior Vets also had a scorer on debut in the form of Jack Loizou in their 4-1 win at home to Cudham United Vets. Player/manager George Kleanthous and Diccon Kaenzig were also on the scoresheet, along with an own goal.
Club Statement
Over the summer our First XI management team left the club. Most of the First XI squad also departed, not enjoying the prospect of playing Division One football.
As we did not have a Reserves side, Paul Eddleston has agreed to take his team up to the Kent County League as our First XI, playing in the Kent County League Division Two (West).
Jez Allen's Fourth XI gained promotion last season and will, as planned, play in the Bromley and South London League Division One. They will now be known as the Second XI (not Reserves) as they play in a different league to the First XI.
We wish both managers and their players all the best.
We plan to expand the number of adult teams again in the coming seasons.
Our Under 10s are recruiting!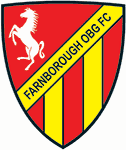 We are holding trials for our Under 10s side all throughout September on Saturday mornings 9am-10.30am at FOBG, Farrow Fields, High Street, Farnborough BR6 7BA (click for map).
We are an FA Charter Standard (now England Football Accredited) club with FA qualified coaches.
If you would like to know more please contact our Under 10s manager Neil Pearce on 07788 974663 or neil.pearce@fobgfc.org.
Got an injury or niggle?
Don't forget, we are subscribed to Jon W Sports Injury for all our sports injury needs.
Jon W Sports Injury is a leading sports injury clinic who work with many clubs in the area offering expert injury assessment, treatment and football-based rehabilitation programs for the effective recovery of all sports injuries.
Their therapists have worked and at professional and semi-professional football level. All Guild players receive £5 off every treatment session with them. More information can be seen on their website www.jonwsportsinjury.co.uk but please feel free to contact them to discuss any needs.
They have an app which can help you schedule appointments quickly, view your existing appointments, see your rehabilitation programs and see all of their videos to help you with pain. All in one FREE app. Click here to download it.
Jon W Sports Injury has clinics in The Warren, Hayes and Westcombe Park Rugby Club, Orpington. They operate flexible working hours to allow for after school/work appointments. They can be contacted at jonwsportsinjury@hotmail.co.uk or on 07825 835305.
Our Social Media
As well as our website, we have an official presence on Facebook, Instagram, YouTube and Twitter. In addition, most of our nine teams have their own Twitter accounts.
FA CHARTER STANDARD

FOBG has held FA Charter Standard Adult Club status for several years now. This is official recognition by the Football Association given to non-league clubs that have demonstrated that they are well run and sustainable. It also recognises the club's commitment to coaching, player and coach development, and the raising of standards of behaviour in the game.
The benefits of having Charter Standard status include:
Use of the FA Charter Standard Logo
Enhancement of funding applications and bids
Kit and equipment grants from the Football Foundation
Exclusive workshops
Starter pack, including posters, codes of conduct, certificates
This represents a major step forward in the development of Farnborough OBG FC and illustrates the ambitions of the club to develop further both on and off the field.
Many thanks to Malcolm Poynter for his hard work in achieving this recognition for the club.
More information regarding FA Charter Standard status.