Welcome to the website of Farnborough Old Boys Guild Football Club, founded in 1932 and affiliated to the Kent County FA.
We hope you enjoy your visit.
NEWS
Phased return of grassroots football
The UK government has updated its guidance for the phased return of grassroots recreation. The latest information can be found HERE.
The FA welcomed the news by the government and said that it was working on an action plan.
"We are now working to submit a comprehensive action plan and related guidance for Government approval as outlined in DCMS's (Department of Digital, Culture, Media and Sport) publication," said the FA.
"Once approved, we will publish new guidance for the grassroots football community. We will confirm timings as soon as we are able.
"In the meantime, competitive grassroots football can prepare to return and look forward to the start of the new season."
There is no firm date in place for the return of football just yet.
The Colts have a New Skipper
12 year old
Harley Lee
is the new Colts Captain for the 2020/21 season.
Colts Manager Paul Raggett has known Harley for some time but managed to sign him to play for the Colts last season.
"A well respected boy by his teammates and managers, Harley has already shown interest in playing for Luke Johnson's first team when he's old enough to play" Paul added, "his love for the team and for Farnborough, along with the passion to do well, it makes Harley captain material".
All at Farnborough wish Harley well in his new role and hope to see him lead the Colts to big results in the new season.
Happy 50th Paul!
Congratulations to Colts manager Paul Raggett who turned 50 last Monday!
FOBG 100 Club - Winners
The draw for the 100 club winning numbers took place outside the clubhouse at lunchtime Saturday 4 July.
1st prize £500: Ticket no. 1, held by

Matt Bishop

.
2nd prize £150: Ticket no. 93, held by

Matti Wright

.
We did check, and St Matthew's Day isn't until September!
Tickets drawn by Club President
Ian Couchman
and First XI Manager
Luke Johnson
.
Many thanks to Luke for thinking of and organising the draw which raised £770 for the club.
Latest (July 3) Update on the FA's COVID-19 Guidance Regarding Grassroots Football
The FA have issued version 1.1 of the new guidance documents for adult players, coaches, facility operators, parents and carers involved in restarting grassroots football activity during COVID-19.
These documents have been produced in line with Government guidance, which saw the easing of lockdown restrictions on gatherings, public spaces and outdoor activities and the phased return of outdoor sport and recreation.
The documents are available to read by following the links below:
You can read the full details on the FA's website HERE.
Congratulations Gary!
Our congratulations to club volunteer Gary Willison who has become a grandad for the second time with the arrival of Archie, younger brother to three year-old Marnie. Archie entered the world on Wednesday July 1st weighing in at 7lbs 14 oz.
The proud parents are Chris and Jenny Pett.
Ensuring a safe return - when it comes
We have formed a small Covid-19 Response Group to prepare the club for the eventual return to football and the reopening of the clubhouse, ensuring that the environment will be as safe as possible for everyone.
Farnborough OBG FC Covid-19 Risk Assessment Policy
The club has drawn up a risk assessment policy for the current virus situation which can be viewed as a PDF HERE.
Saturday Soccer Academy Returns
Our Saturday Academy returned on Saturday 27 June, with 20 players!
In line with the latest FA rules, we were able to resume our Saturday Soccer Academy, albeit in a different format:
Children are divided into groups of five, split into ages (all pre-booked and paid).
Sessions last

30 minutes

.
Each child has their own ball and their own area to play in.
Footballs, cones, poles and one goal will be the only equipment used.
Sessions are logged as follows:
9.30am – 10.00;
10.10 – 10.40;
10.50 – 11.20;
11.30 – 12.00;
12.10 – 12.40 (subject to demand).
In addition:
There will be no access to the clubhouse.
Attending parents (maximum one per child) will be asked to either remain in their cars, bring their own camping seats, or stand in a designated area away from the patio tables.
The outside sink will be used for cleaning equipment.
A one way system will be implemented in and out of the car park and onto the grass.
To pre-book or for more information call Luke Johnson on 07808 736521 or email the club.
We now have a dedicated Twitter account for all things Academy, @fobgfcacademy
Limited number of new players required for our Under 13s next season.
Enamel Badges
We have a new supply of FOBG enamel badges @ £3.50 each including postage.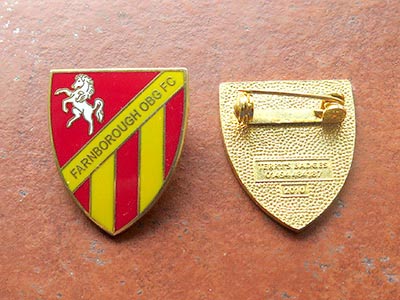 Email the club at mailbox@fobgfc.org if you would like to place an order.
Jazz at FOBG suspended
The Friday night jazz will not be running until further notice.
Our Social Media
As well as our website, we have an official presence on Facebook, Instagram, YouTube and Twitter. In addition, most of our nine teams have their own Twitter accounts.
Follow us on social media:
Twitter:
@fobgfc

(official, including First XI);
@fobg_reserves

(Saturday Reserves);
@fobg_sunday_1st

(Sunday First XI);
@fcfobg

(Sunday Reserves);
FA CHARTER STANDARD

FOBG has held FA Charter Standard Adult Club status for several years now. This is official recognition by the Football Association given to non-league clubs that have demonstrated that they are well run and sustainable. It also recognises the club's commitment to coaching, player and coach development, and the raising of standards of behaviour in the game.
The benefits of having Charter Standard status include:
Use of the FA Charter Standard Logo
Enhancement of funding applications and bids
Kit and equipment grants from the Football Foundation
Exclusive workshops
Starter pack, including posters, codes of conduct, certificates
This represents a major step forward in the development of Farnborough OBG FC and illustrates the ambitions of the club to develop further both on and off the field.
Many thanks to Malcolm Poynter for his hard work in achieving this recognition for the club.
More information regarding FA Charter Standard status.