Welcome to the website of Farnborough Old Boys Guild Football Club, founded in 1932 and affiliated to the Kent County FA.
We hope you enjoy your visit.
RESULTS
Sunday 4th June 2023
FIXTURES
Sunday 11th June 2023
Under 13s v.
Tournament at Glebe FC
NEWS
2022-23 Presentation Night
Our annual awards night will take place at the club on Saturday 10 June. Doors open at 6.30pm.
Players required for Under 13s
We are pleased to announce that our Under 13s have secured a place in the Kent Youth League for the 2023-24 season. We will be looking to add an experienced goalkeeper and a striker to our already strong squad.
Please contact Michael on 07970 351016 or email the club at mailbox@fobgfc.org
Elvis returns!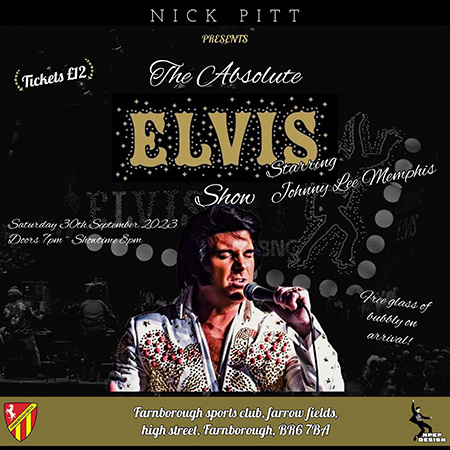 Saturday 30 September 2023 sees the return of Elvis Presley to FOBG!
A truly fantastic evening, tickets (£12) are available HERE.
Cup Finals Match Photos and Video - Including Official Photographers
Photos are available to be viewed from both our cup finals. There are also video highlights of the Paul Picard Cup final.
Paul Picard Cup
Photos (CobraImages.com): HERE
Photos (official league photographer): HERE
...and... HERE
League video highlights (11 minutes): HERE
Queen Mary Cup
Photos (CobraImages.com): HERE
Photos (official photographer Tony Fowles): HERE
We Gain England Football Accreditation!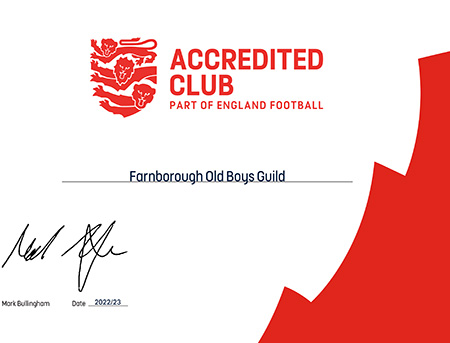 Farnborough Old Boys Guild FC have this week received FA approval in becoming an England Football Accreditation member (formerly Charter Standard).
Officers at the club have been working towards this goal since the beginning of the season and all the hard work has finally paid off.
Club Chairman Danny Saines commented:
"This is a fantastic achievement and goes a long way to prove how committed we are as a football club in doing the right thing - on and off the field. It also secures a bright future for our up and coming junior teams who can continue enjoying Kent Youth League football for seasons to come.
Personally I would like to thank all those at the club who have committed their time in making this happen, especially Accreditation Officer Ian McGrath, who liaised tirelessly with the KCFA, reporting back on a regular basis on what needed to be done and when.
Also to Club Welfare Officer Adam Dannatt, who, behind the scenes, continues to ensure the safety and welfare of all our junior members.
But, as a club, we do not rest here. There is still much to do for season 2023/24 and all officers and managers need to make sure that they keep all of their required FA credentials up to date for us to keep this prestigious standing in the football community.
Well done everyone."
The FA's required policies and plans for FOBG can be accessed via the following links (each opens in a new window):
Got an injury or niggle?
Don't forget, we are subscribed to Jon W Sports Injury for all our sports injury needs.
Jon W Sports Injury is a leading sports injury clinic who work with many clubs in the area offering expert injury assessment, treatment and football-based rehabilitation programs for the effective recovery of all sports injuries.
Their therapists have worked and at professional and semi-professional football level. All Guild players receive £5 off every treatment session with them. More information can be seen on their website www.jonwsportsinjury.co.uk but please feel free to contact them to discuss any needs.
They have an app which can help you schedule appointments quickly, view your existing appointments, see your rehabilitation programs and see all of their videos to help you with pain. All in one FREE app. Click here to download it.
Jon W Sports Injury has clinics in The Warren, Hayes and Westcombe Park Rugby Club, Orpington. They operate flexible working hours to allow for after school/work appointments. They can be contacted at jonwsportsinjury@hotmail.co.uk or on 07825 835305.
Our Social Media
As well as our website, we have an official presence on Facebook, Instagram, YouTube and Twitter. In addition, most of our nine teams have their own Twitter accounts.