Welcome to the website of Farnborough Old Boys Guild Football Club, founded in 1932 and affiliated to the Kent County FA.
We hope you enjoy your visit.
RESULTS
Sunday 13th June 2021
P - P
Sunday Res.
Non-FOBG Covid-19 issue
Vets Summer League
Group
1 - 6
Vets
Dean Murphy, Steve Shippey, Matt Ellis, Sean Blackwell, Mark Fisher, Alan Fines
Saturday 12th June 2021
Bromley and South London Football League
Division 1
Third XI
Josh Dalsan 2, Gary Harrigan, Joe Chalker
4 - 2
Bromley and South London Football League
Division 1
0 - 2
Third XI
Josh Dalsan, Jamie Tulloch
FIXTURES
Saturday 19th June 2021
Comp:
Bromley and South London Football League
Division 1
Sunday 20th June 2021
Sunday XI v.
Kenningwell United
Comp:
OBDSFL
Senior Division
Assistants:
Joshua Reid and Gavin Farrington
Comp:
Kent Sunday Junior Cup
FINAL
Assistants:
Michael Moloney and Christopher Howarth; fourth official: Mark Joy
Comp:
Vets Summer League
Group
Senior Vets v.
Wellcome Super Vets
Comp:
Under 13 Red Shield
FINAL
NEWS
Two Cup Finals on Sunday!
We have not one, but two cup finals on Sunday (20 June).
The Sunday Reserves play league rivals Blendon FC in the delayed final of the 2019-20 Kent Sunday Junior Cup at the Gallagher Stadium, home of Maidstone United FC, kick-off 10.30am.
This match is ALL-TICKET. Get your tickets HERE.
On the same day the Colts play the final of the Red Shield against Bruin at Long Lane JFC, kick-off 10.00am. There is no admission fee for this match.
Please try to get along to one of these games, the boys would love to have your support.
FOBG Launch Under 8s and Under 10s
We will be launching Under 8 and Under 10 junior teams next season!
This is the next logical step following the success of the fast-developing junior side of the club with the Colts and Saturday Academy under the auspices of Head of Junior Football Paul Raggett and lead Academy Coach Luke Johnson respectively.
The Under 8s make their debut this Saturday 19 June in the Baldon Sports tournament at the Co-op Ground (Eltham Town Academy). Matches take place between 9am and noon.
Saturday Reserves Promoted!
Our Saturday Reserves have been promoted to Division 2 West. This is a result of their performance over the last two truncated seasons based on points per game (PPG). Congratulations to Reserves Manager Nick Pitt on this achievement. Nick has moved on but his legacy remains! We are in the process of selecting and appointing his successor.
The NRG 24-Hr Gym Kent County League have issued the league constitution for season 2021-22. This can be viewed and/or downloaded HERE.
Congratulations to Staplehurst Monarchs United and Faversham Strike Force on their promotion to the Southern Counties East Football League (SCEFL). They have been replaced in the Premier Division by HFSP & Ten-Em-Bee and Red Velvet.
Roger Abbott Memorial Match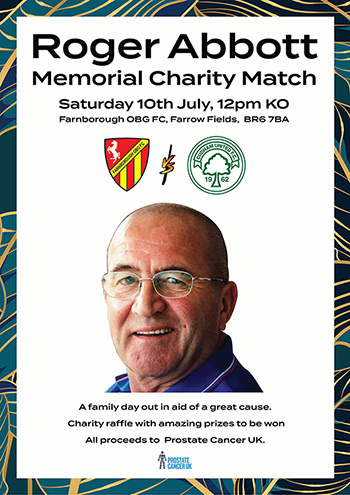 Event: FOBG All Stars vs. Cudham United Legends
Date: Saturday 10th July 2021
Time: 12 noon kick-off, followed by afternoon refreshments, outdoors.
Place: Farnborough OBG FC, Farrow Fields, Farnborough, Kent BR6 7BA
Details: A memorial match for Roger Abbott between teams from the two clubs that he served with such distinction, followed by al fresco table-served bar, in accordance with UK Government Covid-19 regulations.
Proceeds from the day will go to Prostate Cancer UK
Presentation Evening 2021
This year's Presentation Evening will go ahead on Saturday 24 July 2021.
Assuming there is no further extension to the Covid-19 restrictions in England.
In support of Mike Cole
Sadly, we received the news recently that Saturday and Sunday Reserves captain Mike Cole has been diagnosed with skin cancer.
Everyone at the Guild wishes Mike the strength to make a full recovery. The fight he gives in every match will stand him in good stead in this battle.
Kevin Lott has set up a GoFundMe page to help Mike pay his bills while he is off work. You can read more HERE.
There is a fundraising match and entertainment at Bromley FC on Sunday 4 July: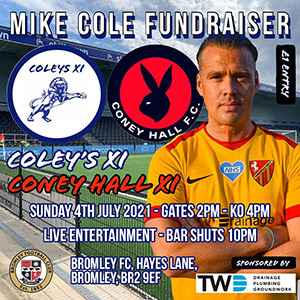 KICS Cup Final Video and Photos
Thanks to the excellent Film My Match crew, we have a range of match video options for the Kent Intermediate Challenge Shield Final...click for your preference (all options open in a new tab/page):
You can see FOBG official photographer Colin Brazier's photos HERE.
Kent County League official photographer Julie Hoare's photos are available HERE.
The Kent County FA photos are HERE.
Colt Logan Williams gets two-year contract with Charlton Athletic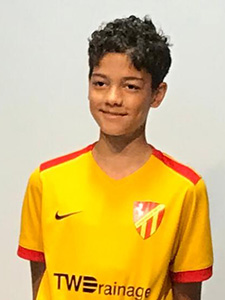 Congratulations to Logan Williams who has sealed a two year contract with Charlton Athletic.
Logan was an ever-present with the Colts last season but an agreement with Charlton meant he could not play regularly this campaign.
We wish him all the best - he is in great hands with The Addicks!
Summer Trials for Under 14 Players
We will be holding summer trials for next season's Colts squad, which will be an Under 14 side next season.
Full details below.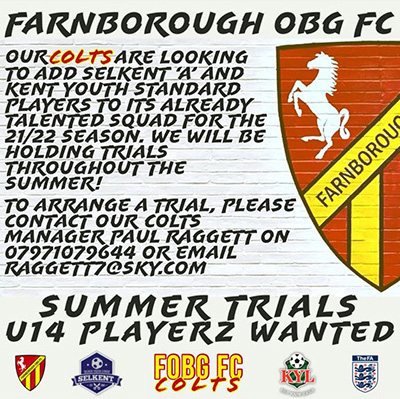 Got an injury or niggle?
Don't forget, we are subscribed to Jon W Sports Injury for all our sports injury needs.
Jon W Sports Injury is a leading sports injury clinic who work with many clubs in the area offering expert injury assessment, treatment and football-based rehabilitation programs for the effective recovery of all sports injuries.
Both therapists have worked and at professional and semi-professional football level. All Guild players receive £5 off every treatment session with them. More information can be seen on their website www.jonwsportsinjury.co.uk but please feel free to contact them to discuss any needs.
Jon W Sports Injury has clinics in The Warren, Hayes and Charterhouse Road, Orpington. They operate flexible working hours to allow for after school/work appointments. They can be contacted at jonwsportsinjury@hotmail.co.uk or on 07825 835305.
NHS COVID-19 Contact Tracing App
Download the the official NHS COVID-19 contact tracing app HERE.
Our Social Media
As well as our website, we have an official presence on Facebook, Instagram, YouTube and Twitter. In addition, most of our nine teams have their own Twitter accounts.
FA CHARTER STANDARD

FOBG has held FA Charter Standard Adult Club status for several years now. This is official recognition by the Football Association given to non-league clubs that have demonstrated that they are well run and sustainable. It also recognises the club's commitment to coaching, player and coach development, and the raising of standards of behaviour in the game.
The benefits of having Charter Standard status include:
Use of the FA Charter Standard Logo
Enhancement of funding applications and bids
Kit and equipment grants from the Football Foundation
Exclusive workshops
Starter pack, including posters, codes of conduct, certificates
This represents a major step forward in the development of Farnborough OBG FC and illustrates the ambitions of the club to develop further both on and off the field.
Many thanks to Malcolm Poynter for his hard work in achieving this recognition for the club.
More information regarding FA Charter Standard status.